AKA
Coco Avant Chanel
Perhaps since her nickname of Coco came from a flirtatious little cabaret number she sang to collect coins from drunken men, Gabrielle Chanel (Audrey Tautou) was acutely aware of the way that men had a tendency to look at the opposite sex as desserts ready to be devoured.
Instead of giving into the ridiculous trends, the orphan whose first taste of male disappointment came from being abandoned by her father whom she loyally waited in vain for every single Sunday, used the comfort, cut and look of her lovers' and male friends' clothes. Instinctively Coco knew that it was always sexier to stand out in a black ensemble than give in to the sea of pastry inspired fashions.
Initially famous for her stylish hats, she tapped right into the time and what she rightly believed as a woman of good sense and former seamstress that others would want to wear as opposed to her pet peeves of heavy "silverware" style jewelry around the neck, painful corsets, or meringues on their heads.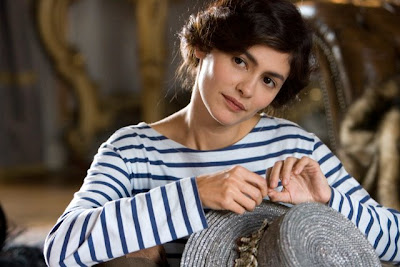 And in director Anne Fontaine's passionately sensuous
Coco Before Chanel
, the filmmaker takes a cue from the film's subject by rebelling against traditional biopic format to give us a more impressionistic visually imaginative overview of the way that Chanel was inspired by everything around her from the time Gabrielle was ditched by a man to the time that another dubbed her Coco.
Although the production notes reveal that F. Scott Fitzgerald's quintessential American novel,
The Great Gatsby
was used by design departments as a reference point in the back of their minds, I felt it was distinctly French and all the better for it.
Easily Audrey Tautou's strongest performance since her post-
Amelie
reunion with Jeunet in
A Very Long Engagement
-- as the anchor of the film,
Coco
could've easily gone from runway to runaway based on her turn alone but it's thrilling to see an entirely new and far more mature side of the actress than she's ever been allowed to play before.
Likewise, those familiar with Chanel's life either through the more than forty biographies written about the icon or the recent TV movie
Coco Chanel
with Shirley MacLaine are aware that she suffered her fair share of heartbreak as an essential courtesan by a man who used her like a geisha but still cared about her in his own way. However, it takes a talented actress and female mindset in the screenwriting and direction to empower Chanel during these tough times when she didn't have the upper hand in any other way than through work.
Furthermore, even if the film-- at a respectable 110 minutes-- does feel overly long, it takes a new "through suffering comes art" approach by ensuring that Coco never realized that is what was happening as the filmmakers illustrate how even the most heartbreaking of experiences defined the style she would share with the world.
Although it isn't quite as magnifique as Anne Fontaine's other 2009 offering,
The Girl From Monaco
because we're left wanting more of Chanel once Coco comes into her own, it's as delicately crafted yet universally appealing as one of Chanel's designs such as her classic, little black dress.
Elegantly photographed by lensman Christophe Beaucarne with Olivier Radot's production design, the film moves seamlessly from what appears to be Renoir inspired seaside paintings to images that one would believe could've been found in the Chanel archives of Mademoiselle's photographs.
While the pacing falls a bit behind at times as your mind races ahead further than the slower moving film, it's nonetheless a technically impressive and emotionally potent film that invites viewers to experience the world through Coco's selective eyes and ears, thanks to the lush compositions of Alexandre Desplat.
Oscar nominated for Catherine Leterrier's Cesar Award winning authentic and entirely original costume designs, which no doubt was helped immensely by the Fashion House of Chanel's cooperation and featuring what is quite possibly Audrey Tautou's best work to date, Sony's transfer of the film looks more than couture ready even on DVD.
Text ©2010, Film Intuition, LLC;
All Rights Reserved
.
http://www.filmintuition.com
Unauthorized Reproduction or Publication Elsewhere is Strictly Prohibited and in violation of the Digital Millennium Copyright Act.
FTC Disclosure:
Per standard professional practice, I received a review copy of this title in order to evaluate it for my readers, which had no impact whatsoever on whether or not it received a favorable or unfavorable critique.