Photo Slideshow
Now Available on DVD & Blu-ray
As our postmodern narrator explains in writer/director Carlos Cuaron's feature filmmaking debut, in the past wars broke out between brothers until eventually sports came along to symbolize that fighting spirit symbolically on the field.
Additionally, according to soccer scout and narrator Batuta (Guillermo Francella), the game itself serves as a metaphor in this underdog Mexican dream faux sports film for the way the male characters that populate it interact with women. Since Batuta argues that mothers provide their sons with an identity and it's this constant need to prove their affection and dedication that overlaps right along with team spirit, as far as our main characters are concerned their love for their mother is the same as their allegiance to their team colors.
Yet in addition to the admission that the macho pride regarding which half-brother will provide a home for their mother is as competitive as soccer matches played between the headstrong Beto (Diego Luna) and his ambitious, unrealistic dreamer half-brother Tato (Gael Garcia Bernal), Batuta also shares that loving a woman (other than one's mom) is like handling the ball.
To this end, the narration describes knowing when to entice, seduce, guide, possess and put the ball in its place when it falls out of line in a way that may indeed garner an eye-roll from female viewers given the machismo spirit of the piece. Yet Cuaron is careful to make the narrator's explanation double as a thematic warning concerning fame and what happens when his characters achieve too much too fast.
Beginning as a bright and fast-paced comedy,
Y Tu Mama Tambien
stars and lifelong friends Luna and Bernal reunite with the co-writer of
Tambien
, Carlos Cuaron (brother of that film's co-writer and director, Alfonso Cuaron) for their portrayal of aimless young men living in poverty while working at a nearby banana plantation.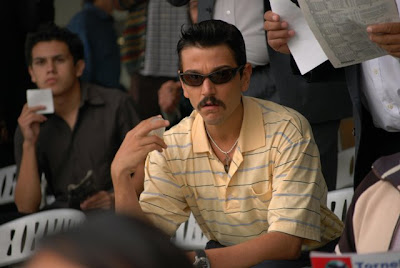 While Luna's Beto has a wife and children, he spends most of his time outside of work stealing items like his wife's blender to support his poker habit and always putting his mother's needs and wishes before thinking about how to provide for his own family. Meanwhile, his slacker half-brother Tato dreams of becoming a singer like his rumored French musician father.
And while neither one is overly enthusiastic about the game of soccer other than enjoying it since it's part of their DNA and culture, they soon square off for the sole ticket outside of their poor community for a shot at Mexico City and professional soccer fame. And sure enough, they do succeed as Bernal's quicker-thinking Tato makes a break for it in the hopes that soccer will eventually give way to a singing career. However, Luna gets to join him later and discovers that he's by gambling for much more than blenders when his lifestyle incorporates cocaine and rubbing elbows with gangsters ensuring that their success will be short-lived.
While the
Village Voice
reveals that
it's
inspired by a road trip shared by the brothers Alfonso and Carlos Cuaron when the men were in their twenties, the film has little in common with a road movie nor does the comedic tone last very long as we realize how little we actually like or identify with either brother.
Since
Rudo y Cursi
marks the first offering from the men in the forefront of the recent Mexican New Wave as its producers are none other than Alfonso Cuaron,
Amores Perros
director Alejandro Gonzalez Inarritu, and
Pan's Labrynth
helmer Guillermo del Toro, it's a nice breath of fresh air for the men to offer something more comedic for the company's debut under their
new
Cha Cha Cha Films banner.
And admittedly, it's intriguing to witness a genre twisting spin on a traditional and obvious American style of an underdog rags to riches success sports movie given the way that Cuaron chose to imbue it with melancholic social awareness. However, aside from the stunning transfer to Blu-ray format by Sony Pictures Classics and some great Blu-ray extra features including a Q&A session with Cuaron, Luna, and Bernal that's double the length of the making-of-featurette, overall I felt that
Rudo y Cursi
's strange homage to the translation of its character's nicknames of rough and corny made the film and its unsympathetic characters increasingly unlikable as it continued.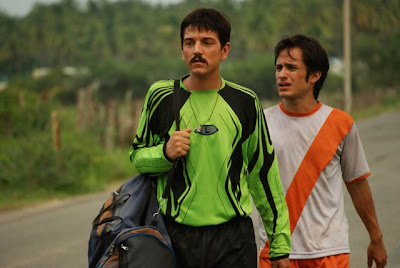 Bogged down by a cliche riddled plot including a sequence that seems heavily borrowed from
A League of Their Own
, the alienating mixture of sad failure and pessimism evidenced in the darkly comic yet unsettling conclusion leaves a bad aftertaste for viewers who will find themselves missing the inherent genuine charm of the lead actors. Somehow the personalities and appeal of Luna and Bernal were completely filtered out in this unusual production that had potential but never seemed to figure out just what goal it had in mind and which game it wanted to play when the ball wandered into the film's mid-section.
Text ©2009, Film Intuition, LLC

; All Rights Reserved.

http://www.filmintuition.com
Unauthorized Reproduction or Publication Elsewhere is Strictly Prohibited.